Are you in need of a good air conditioner repair service to repair, install or maintain your current air conditioning system? Look no further! Our team of experts can help you, no matter what AC problem you are running into.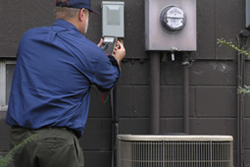 AC not blowing cool air?
Call now
(754) 200-2013
Air Conditioner Repair Services
When you have a problem with your AC you need a great air conditioning repair service to help get it fixed so you can stay cool during those brutal summer months. When you call us, you are getting the best air conditioning service out there. We offer the following air conditioning services:
We work to ensure 100% customer satisfaction. When we come out to your home to fix your AC unit we will get the work done the right way the first time and we will do it swiftly. We know you want to get back to your life as soon as possible and we respect that.
The hot season can place a large demand on other air conditioning companies. However, we have the ability to keep up with that demand. We understand that your need to get good service right away is extremely important and we work hard to be there for you. We also offer emergency AC repair services. Our team of experts are ready to handle your needs when the heat hits. Don't hesitate to contact us for service.
Central Air Conditioning
If your central air conditioning is in need of a repair, install or a regular maintenance, we are the air conditioning experts who can help you get it done. Central air conditioning is vital to keep your home cool in the summer months. Keeping your system maintained will help to ensure it is working to its full ability. Our technicians are highly trained, they will be able help to diagnose and handle anything you might be running into.
Home Heating System
Your home heating system is needed to help you get through those cold winter months. We can help you install new systems, repair, or maintain your current system. Our team of technicians are available to help you 24 hours a day, 7 days a week. We know exactly how to help you, and can do it quickly.
Indoor Air Quality
Indoor air quality is extremely important because we spend about 90% of our time breathing the air inside of our homes. Unlike outdoor air, indoor air is recycled over and over again causing it to trap and build up pollutants in the air. Poor indoor air quality leads to both short and long term health issues. Maintaining proper indoor air quality will also extend the service life of your equipment which benefits you in more ways than just your health. You need a good air conditioning service to help you correct your air quality.
AC stop working?
Don't suffer, contact us
(754) 200-2013
We are an air conditioner repair service in Fort Lauderdale, Coral Springs, Pompano Beach and all surrounding areas.